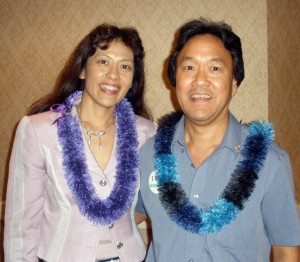 Aloha,
I'm Kellie Hosaka and I am so happy you are here.  Are you looking for a better way?  Would you like to learn how to have your own home based business and earn residual income or passive income in the comfort of your home?   Great!
I live in beautiful Hawaii!  My husband Glen & I are both born and raised in Hawaii and we speak English and the native language of Hawaii called "pidgin". 

We are "baby boomers" and in our generation we were taught to "go to school", "climb the corporate ladder", and then we were suppose to be set for life, right?  Well, it is very obvious today that my plan to have a safe, secure job and retire after 40 years is not going to work.
In 1995, I realized I had worked 14 hrs/day climbing the corporate ladder and I had missed 8 years of my son's life.  I knew I had to make a CHANGE!  Fortunately, a book came in our mailbox which said "We All Work At Home!".  I decided to join the home based network marketing business industry, and after working it seriously part-time, I had equaled my full-time job salary in 2 months!  I was Thrilled!

 I left the corporate world back in December, 1995!  My husband, Glen left his corporate job in 1999 and it's been incredible!
Then Came The Internet & Social Media!
So what do we do?  We are Health & Lifestyle Coaches assisting people who want to have the Freedom of Working At Home, & experience getting healthy with Ease!   We also believe "If You Do What You Love & You Love What You Do, Everthing Else Will Flow Into Your Life!
We work with the leading Health & Nutrition Company in the World, Herbalife International doing business in over 80 countries around the world!  The internet and technology has enabled anyone to build an international social network marketing business.  It's a "step by step" process learning from an experienced team of entrepreneurs.  It is so much fun assisting people from all around the world to "work from home", be home for their children, family and friends, and become financially independent at the same time.  We also  assist people in a very simple and easy way to have "Health with Ease"!  Wow, it's "Simply The Best"!

I also struggling with my weight until 1995.  Please click on "Kellie's Challenging Journey With Weight" for my story.
Also, get my tips and secrets I've used over the past 17 years by signing up for our video series below.